by Michelle Fav | Featured Contributor
After the ball drops and the confetti clears, it's time to get down to business and act on those New Year's resolutions. Many resolutions this time of year are focused on health and fitness. Some of us want to lose weight, build muscle or adopt healthy habits. Yet, as entrepreneurs, it can be quite a challenge to fit in exercises into our already jam-packed schedules. But, there are ways to work out without leaving your home or hotel room — you just need the right equipment and workout routine.
One of my favorite pieces of equipment is compact enough to fit in your purse or suitcase, so you can squeeze in a quick workout anywhere. Meet: the resistance band (with handles!).
The resistance band will help you target every muscle group, so you can get a full body strength workout when you want it. And, strength training is mission critical for those looking to lose weight or get healthy. Strength training helps you burn more calories long after your workout is over, and is great for strong bones and a better mood.
For a complete on-the-go workout, combine body weight exercises with a few resistance band activities. Here's a sample quickie workout routine you can do in under 15 minutes:
Do as many as you can of the following exercises, each for 1 minute:
Repeat 3 times through.
Here are three resistance band activities that will target your back muscles to round out the above full body strength workout.
On-the-go Exercises #1: Upright Row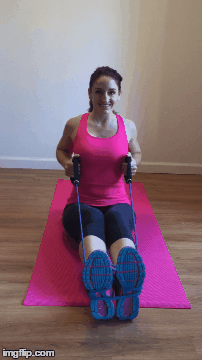 Wrap the resistance band around your feet so that the band comes out on the outer sides of your feet. Then, either grab the handles or "choke up" on the band by grabbing lower to make it harder resistance. From there, pull the bands back towards your sides as you squeeze your shoulder blades together.
On-the-go Exercises #2: Reverse Fly

Either sitting or standing, grab the band in both hands and extend your arms out in front of you, at shoulder height, with elbows slightly bent. Then, bring your hands away from each other again squeezing your shoulder blades together. Feel free to bring your hands all the way back until they're about an inch in front of your shoulders. You can adjust your grip to increase the resistance of the band. The closer you have your hands together, the harder the exercise will be.
On-the-go Exercises #3: Bent-over Row
Bring your chest towards the ground until your chest is parallel to the floor, knees slightly bend. Place the resistance band under your feet, then grab either the handles or "choke up" to grab the band itself. Then, pull the band up toward the ceiling and back down, squeezing your shoulder blades together as you do it. If this doesn't feel challenging, bring your hands closer to the ground and grab the band there. That will increase the resistance and intensity of the exercise.
Combining body weight workouts with resistance band exercises will give you a full body workout that you can do whenever and wherever. Make sure to consult your doctor before starting any new fitness regimen. For more workout ideas, check out the workout routines on my blog, GroupXFitnessTips.com.
——————————————————————–
Michelle Fav, PR expert, group fitness instructor and blogger behind GroupXFitnessTips.com.
I have a wide range of interests, but what's been keeping me up at night lately? My search to find the perfect song to pair with a group exercise routine. I feel on fire when the beat drops in my fitness class and the entire room is moving deafeningly in sync with the music.
My blog GroupXFitnessTips.com brings together fitness instructors from all walks of life to inspire, encourage and learn from each other. When I'm not at the gym, you can find me crafting corporate stories at my day job in public relations (PR).
Coupling my passion for fitness with my professional obsession with communications, I have an array of expertise to share with you, such as branding strategies, blogging 101 tips and healthy living advice for busy entrepreneurs.
Follow me on Twitter (@GroupXMich) and Facebook (GroupXMich).
Save