Looking to change your way of using a smartphone the right way? Now with time, there are plenty of airG scam-free apps available to help you in your user experience without any hassle. It seemed like yesterday when I got my hands on the first Android device. My life has never been the same since then.
If you remember the day you got an Android device, you probably sail the same boat. Android has completely flipped our lives. We cannot ignore Android-powered gadgets anymore.
Overall, the use of mobile phones has exponentially increased in the past decade. The functioning of mobile phones goes beyond the capacity of making or receiving calls. From the moment we wake up until we hit our beds, mobile apps have slowly occupied all hours in between.
Mobile apps have been one of the spectacular products of the digital marketplace. The number of apps in the Android store has reached 3.57 Million by July 2022. This makes Google Play one with the most significant number of applications.
Why are people trying new apps every other day?
The majority of smartphone users spend their time on mobile apps. As per eMarketer, an average person spends 90% of their time on smartphone apps. Research also reveals that there are more than 80 apps installed on a typical smart device.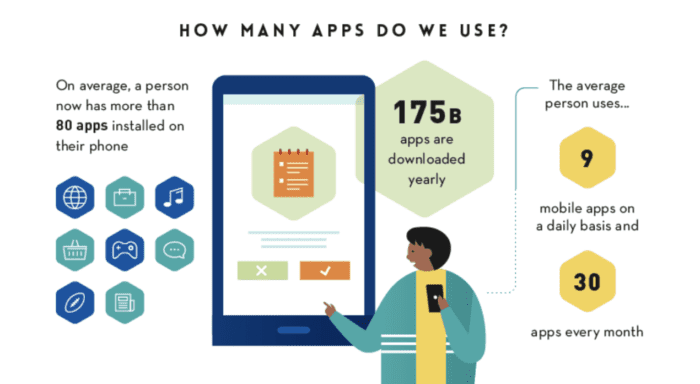 Mobile apps have brought oodles of differences in the way we carry on with our lives.
7 incredible Android apps that will change the way you use your phones
If you are using an Android phone or a smart device, you can bring stark improvement in your life by using apps at the Google Play Store. This blog features seven Android apps that will change how you typically use your device.
Let's have a look!
1- Lynket browser
Social media has proven its efficacy by finding articles around the web. However, it isn't always easy to read articles from social media platforms themselves. Sometimes, it is a good idea to queue up those pieces and read them later.
This is where the Lynket browser comes with a great armor of features. This new name is derived from "tabs" in Italian. It allows you to choose which browser you want to use for loading pages. It opens pages in the background, which you can access by tapping the floating, onscreen bubbles.
This app is straightforward and valuable. It works with your current default browser and speeds up browsing by automatically loading the AMP versions of the links where you click. Another great feature of Lynket is that it gives you an option to read pages in the article mode. It will load a sleek reader without all the fillers and fluff.
This app delivers what it promises with frequent upgrades to fit the users' requirements.
2- Dropbox
Dropbox remains the top apps meant to bring convenience for the users. It seamlessly syncs files from your phone to portable devices and vice versa. Apart from Android, it also works efficiently on iOS and Windows. This is to ensure you stay out of all troubles when you need an essential file.
It has powerful features like Showcase and Smart Sync. These features on Dropbox Professional make storing 2 TB (2000 GB) of files tracking progress and sharing work a lot easier than ever.
This app will automatically back up your videos and photos to the cloud. You can now keep that critical set of PDFs with you at all times or take notes that sync back to your computer. There is no need to carry a stack of files everywhere you go.
3- Snapseed
We are all used to taking photos to store sweet moments of our lives. What if you find a way to make those images more exciting? Snapseed is the ultimate photo editing app to enhance your pictures.
Snapseed is not the typical one-dimensional, tap-to-edit photography app. It gives you access to every photo editing tool that you can think of. These will enable you to edit colors and remove objects without leaving any traces.
In April, the app underwent a major facelift on its Android and iOS versions. This has introduced new designs and streamlined the previous editing tools. They also added new tools with this update, including lens blur, spot repair, and brush.
This is also an easy app to use with high-end embedded security. It follows the algorithm integrated into airG scam free apps, making it an app that you can rely on.
4- Notepin
Notepin performs a crucial task, making us wonder why it isn't already present in Android devices. It creates notes and enables you to pin those notes in the notification panel for future reminders.
There is no need to sign-up or create an ID to use this application. You can start writing right away and even write anonymously by clicking on the option: "or write anonymously." You can also sort the notes by priority and make them color-coordinated accordingly.
Although this isn't a one-of-a-kind application, it is definitely something you should have on your phones if you value productivity. Most of its features are present on the free version, so you can have a great time organizing without spending on subscriptions.
5- IFTTT
The IFTTT app allows you to create applets that will connect two internet-based services, making your Android phone the central hub.
You can use this app to control your devices, get SMS alerts from the Google Calendar, send tweets automatically, and get notifications on your favorite products pricing. Once you begin to use this application, you will keep wondering how you spent your life before this.
Having this app makes it easier to devise a schedule. It also brings a perspective on spending your money and the tasks that require instant attention. For example, it reminds you to attend a virtual event when you are stuck at a bus station or even prepare for an upcoming digital event!
6- VLC Player
VLC player is widely popular and for the right reasons. It is free and supports all file formats without asking you to download codecs. It can optimize audio and video playback on your Android phone, supports streaming, and it can be extended infinitely with the downloaded plugins.
Think of it as an all-in-one media playback application. You can also apply subtitles, tweak the sound settings, watch videos in the pop-up windows, and stream content from other computers.
VLC player isn't merely a video playing app. It is a lifesaver. You can practically play all kinds of video formats on this app, making it a must-have on your Android device.
7- Sesame
Sesame is a search and shortcut maker. It could become your most-used application due to the vast array of exciting features.
This app searches inside your phone applications, showing messages from Skype or playlists on Spotify right at the home screen. There is also an option to create shortcuts to particular features within those programs.
Whether you want to check the scores on your favorite sports channel or create a to-do list for the day, you can do so with a single tap.
Final Thoughts
If you are an Android user or someone who has just switched to this landscape, you should consider installing a bunch of these apps listed above. These apps will change the way you use your phone. Instead of mindless scrolling through social media and killing time on games, you can now focus on things that are more meaningful and worth your time. It would be best if you download a couple of these and share your experience with us!
Alma Causey is a Freelance writer by day and sports fan by night. She writes about tech education and health related issues. Live simply, give generously, watch football and a technology lover.