by Nicole Orozco
My guess is you want to learn the quick and easy way to attract lots and lots of visitors to your website in short order. Fortunately there is a way to instantly gain a boatload of traffic simply and easily—I've done it. However, it takes a lot of work to become an overnight success.
The 'easy' I'm talking about is using infographic design to attract your target audience. Sharing the right infographic usually results in your target audience also sharing it, and so on, and so on. So that one infographic can gain a lot of views, ultimately winning over many of those views to your brand. The trick is, finding the right infographic design and therein is the work.
An infographic is a graphic visual representation of information or knowledge. Infographic design is a great way to pass on information because it presents that information in an easy to digest manner. Infographics are a fun and quick way to learn something new without having to read through pages of text.
A few things you should keep in mind:
Keep it simple
Don't try to stuff too much information in your infographic design because then it becomes just as cumbersome as reading an extra long blog post. Instead draw out the important points and make the information easy to understand—even with a simple cursory look at it.
Make it colorful, but not too colorful
With infographic design visual appeal goes a long way. Be sure to include color as a visual element to break up the text elements. A word of warning: A little color is good but it is possible to overdo it. Too many colorful elements can be distracting.
Make sure it's something that will interest your readers
That sounds obvious however it's sometimes tempting to create a great infographic design for information that you simply don't want to write a post about. Maybe you have writer's block or maybe the topic appears a bit overwhelming in text. In those instances it may seem easier to create an infographic. Resist the urge. Instead save your infographic design energy for topics that your readers would love to know about and would be willing to share. How-to articles and 'best of' lists make great infographics.
Here is the infographic design I used Top 50 mompreneur blogs to follow in 2013 [Infographic]
Before creating this infographic I identified a topic I knew my readership would be interested in. The top 50 Mompreneur Blogs was a great topic for my audience because as mompreneurs themselves my readers are always looking for inspiring mompreneur blogs to follow and from which to learn.
I developed and researched the topic—in this case; I read A LOT of blogs and determined which had the most to offer in terms of entrepreneurial insight, pleasant design and a loyal following. I turned the data I researched and collected into my infographic design.
I shared the infographic on my social media sites and was excited when my audience also shared it on their social sites. In my case, the result was an impressive increase in referral traffic due to social media shares and new followers on my social media sites.
The bigger result was an overall stronger brand identity that came from the new visitors viewing the other content on my site.
There are still no shortcuts to building your online presence. Increasing traffic is hard work. Growing your brand takes diligence and the ability to put out useful content, but infographic design is an excellent tool to help you achieve those goals.
————————————————————————————-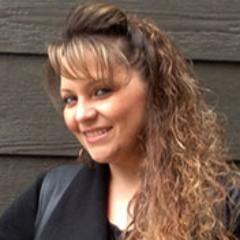 Hello, my name is Nicole and I live in Southwest Washington with my contractor husband and two adorable children ages 3 and 8. I am a mompreneur so I know what mom entrepreneurs need.
My journey as a mom entrepreneur began in 2005 after the birth of my daughter when I left my job as an advertising associate with a local newspaper to start an online baby boutique. I loved being an entrepreneur and while I enjoyed the boutique industry, I realized I was more passionate about design and graphics, and that led to me pursuing my passion as a website designer. I absolutely love working with inspired, creative and absolutely amazing entrepreneurs who are pursuing their own dreams and aspirations. Feel free to connect with me on Facebook or Twitter.
She Owns It accepts guest post submissions at https://sheownsit.com/guest-post-submissions/. If you have an article that would be of value to our community, please submit for approval.
All posts will be screened, links checked (limited to 3 and must be relevant), and author must be verifiable through a website and social media accounts.