by  DeKesha C. Williams | Featured Contributor
It's that time of year where we start rethink where we are in life and where we want to be in life.  We begin to question whether we're on the right path on your Entrepreneurial Journey or in your Corporate Ladder progression.  Can you answer the question of being happy with what you do and wake up every day and start it all over again without looking at it like it's work.
Part 1. How Start Your Business.

If you're reading this something about the title caught your attention. Apparently you have a vision and are looking for ways to convert yourself into an achiever. I will leave you with this food for thought:
1. Reveal Your Vision. Everyone will have a vision or two in their lifetime.
You ever wonder why you wake up at 3 am and grab a pen/pad and begin to write things that are on your mind.  Most of the time the items that you're writing can most likely change your life and someone else's.  The thoughts and vision you have bring clarity to your inner fears and feelings, they bring answer that ultimately help you make it through your current situation.  What I've realized is that when you've made it through then it becomes your duty to turn around and help someone else through.

2. Write it down. When the moment comes write down whatever comes to mind in regards to the vision.

You'd be surprised as what you can capture when you're passionate about the imagery that you just came across.  You'll begin to write why this is so important to you that you have to act on it now.  The key word was WHY? and understanding why you're building a certain business or working with a certain organization can take you along way on this entrepreneurial journey.  It can also determine wheteher you're in position to move forward or is time to make a move in another directions.

3. Set goals. It's your vision and only you know what you want to come of it. You have to want to accomplish something, cure something or make money from it. Tell me exactly what you're looking to conquer on this Entrepreneurial Journey.

If you can clearly spell out 3 clear things that you're looking to set forth and conquer then you have a finish line.  Effective leaders begin with the end in mind.  You have to know where you going to determine how you're going to get there.

4. Create a road map. Spill your guts on how you plan to accomplish those specific, measurable, achievable and realistic goals that you just set.
In that road map shall be an END, make that your T – Time frame in which you plan to achieve your goals.
Create a step by step agenda on how you will fulfill your mission and vision.  At this point in the entrepreneurial game, you are creating your blueprint so don't leave anything out and stop trying to make it perfect.

Can I tell you something – Only JESUS was perfect so cut it out.  Throw away the mentality of perfection.  I'm not going to start my business until everything is perfect.  Clearly that business will never launch because no business is perfect.

5. Become an Achiever. Todays marks the last day of the year and everyone is waiting to see what 2014 will bring.
Not me,  I'm showing 2014 what I'm making happen because I'm willing to take action and Step out and just do it! You need to have the same attitude!  Don't sit around and always wait to see what happens.  I'd say make it happen and see what comes of it.
It's funny because I purposely didn't label #4 as create a strategic plan. That is exactly what you're lying out in front of you. For some reason those words seem to frighten people away. So in this step just use the roadmap to success on your Entrepreneurial Journey so that you are in position to ACHIEVE your goals.
Never stop dreaming and most of all never stop living (walking the road map).
Never stop dreaming and most of all never stop living! –
-There is no strategy without a vision.
© 2014 by DeKesha C. Williams.  All Rights Reserved.
——————————————
DeKesha C. Williams – Business Strategist, Vizions Consulting – Richmond, VA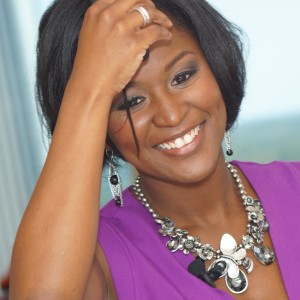 DeKesha Williams, known as the Virtual COO, Business Strategist, and Leadership Development Trainer, is the CEO of Vizions Enterprise. Vizions Enterprise helps clients with business expansion and infrastructure development.
Ms. Williams leverages over 20 years of experience in retail management to help other entrepreneurs develop practical business strategies that include: solutions to increase profitability, strategies to increase foot traffic, brand development and more.
During her many years in retail management, she worked for retail companies such as Macy's and Ann Taylor Loft. As a manager and then a District Manager, her responsibilities included developing floor set and marketing strategies among other things. Additionally, she was responsible for creating sales projections and action plans for 13 stores across 5 states for a number of years. As a District Manager, Ms. Williams had the pleasure of managing and mentoring several young women. The mentoring relationships further fueled her desire to inspire, motivate and educate as she was able to see first-hand how her efforts led to the successful achievement of her company's goals 90% of the time by those she mentored.
In addition to her many years of experience, Ms. Williams holds a B.A. degree in Fashion Merchandising and an M.B.A degree in Finance.
At Vizions Consulting, we help small business owners who struggle with operational procedures to develop an efficient workflow and increase employee productivity.