How to be brave enough to start your life project
We all have a secret or not so secret project, something we dream about doing at some point in our life.
Your life project doesn't need to be building an online business… maybe you want to run a marathon, learn a new language or going on a family trip to China.
I'm sure you don't want to grow old and look back with regret because you didn't give your project a shot.
Life is too short to keep postponing important things.
I'm sorry to be the one to tell you this but… YOU'RE GONNA DIE… Just in case you didn't know it.
You only have this opportunity (life) to make things happen… or at least do your best.
If we wait until we're ready, we'll be waiting for the rest of our lives. – Lemony Snicket
I don't know an easy way to tell you this, so I'm going to ask my friend Shia LaBeouf who is better with words: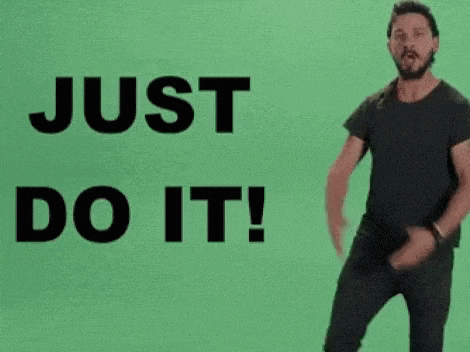 Ok… that wasn't really a Ted Talk, but there isn't much more to say: "JUST DO IT"
You need to know how to be brave enough to get off your butt and fight for your life project.
I'm going to share with you a challenge that helped me a lot to get things done and stay consistent along the way.
28-Days Free Email Course to become a successful mompreneur
From the moment we make the decision to start our project to the moment we are working hard to get things done, there are 4 stages we are going through.
Clarity
This is the moment when you feel that you need to change something in your current situation, you affirm it and you're willing to commit yourself to achieve it. It's time to take the reins of your life and work in your action plan.
Courage
It's okay to have doubts and fears, it's going to be a new adventure. You just need to be brave, not fearless. Keep what you want always in mind. This is the point when you decide to activate your action plan… the moment of truth.
Combat
You have completed the first two stages. You already have the clarity to know that you need a plan to reach your goals and you gathered the courage to activate that plan… Now you need to make your way through the action plan, execution is everything. If you want to succeed, you have to move into ACTION.
Consistency
This is the last stage to achieve your goals. Consistency can be the hardest part, but it's what determines whether or not you will succeed, so pay attention here:
If you're a mom you will be also running a family, breathe… and use it as your motivation, being an example of success for them, bring more money home, own your time, do something that you love, whatever.  Small actions every day.
The free email course is based on these 4 pillars. This is what we called the 4C transformation system.
Stop telling yourself that there will always be a tomorrow.
Use every day to its fullest, feel the present moment, it's your responsibility to create the best possible life for you.
I wish you happiness, love and the courage to live your life according to your priorities ♥
Hi! I'm Vanessa Cast. Business Coach focused on Mompreneurs, long-time entrepreneur and unshakable #DreamsPrinter, dedicated to helping you live according to your priorities by profiting out of your passions and abilities.
I was only 19 years old when I started my first business, it was a computer retail online store, after that, and to make a long story short, I played many years in corporate life, in a very nice job, with a great salary.
But in 2013 (this is a super happy "but") Alex was born, so I had this feeling that I need to find a more meaningful thing to do, something to build a better world for my little boy. A few months later I decided to resume my entrepreneurship career.
I'd love to tell you that it was a piece of cake, but no… it was hard. I've run many different businesses while cradling my newborn: A Motivational Subscription Box, Consulting Services, and even a Bakery… Sweet!
This gave me the opportunity to raise my son based on my own schedule and not my boss'. And at the same time, I was helping others to reach their goals.